~Monthly Conference Call~
~September 5th - 7:00 AM Pacific Time~
Since May of 2008, one of the great blessings that Household of Faith has experienced is presenting the ministry of our monthly conference calls. From the first presentation we have experienced a continuous appreciation for the range of topics and the resourcefulness of information offered through these calls. And that is to say nothing of enjoying personal dialogue with many wonderful Christian leaders who have joined us from across the country.
For September, the topic is... Are you struggling in your ministry? You are not alone, nor are you abnormal. Through both personal experience and the testimony of the scriptures we know that Christianity and Christian ministry can be hard and even discouraging.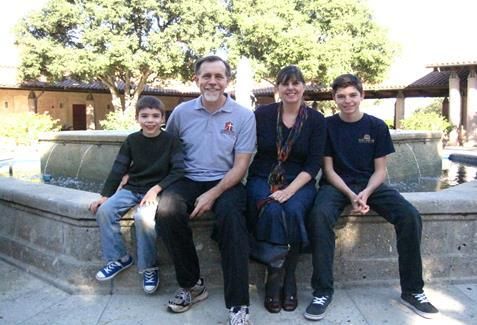 Brad and Robin McMurray have worked together in Christian ministry for over 30 years in a variety of churches and ministry efforts. While God is always good, the work of the ministry is often hard, confusing, disappointing and even frustrating. Brad and Robin will be joining us on Saturday, September 5th – 7 am Pacific Time. Note the new date for September due to travel schedules. We will have opportunity to interact with Brad and Robin and hear how their experience and the experience of Christian ministry through history is often a difficult struggle. But that doesn't mean we should give up, or fear or grow weary. Rather, they want to help us see how we can live the normal struggling Christian life, filled with hope, steadfast in affliction, abounding in joy, even in the midst of our struggles.
We invite husbands and wives to join us for this interactive conference call, where we will hear encouragement from Brad and Robin and we'll have a chance to share our struggles with each other, showing the normal struggling Christian life is not only normal, but it can be glorious.
Grab a cup of coffee and pull up a chair as we share some much needed encouragement with one another.
You can join the call by dialing: (218) 862-4122 / Enter Code: 60308# / Mute *6 (please remain on mute except when speaking).
To participate in this on-going dialogue on reforming the church and establishing a sustained legacy of faith in Christian families for generations to come, please sign up in the subscription box below or forward your email address to: info@hofcc.org. We do not share your personal information with any person or organization, and you may be removed from the list upon request.
Once on the list you will receive our monthly announcements with the contact information for participating in that month's conference call.
Visit the Essential Reforms page for a listing of all the Reforms and accompanying Scriptures.


Please welcome others into our "circle of friends." In fact, we hope you will recruit your entire leadership team of deacons and elders to join us for the call as we delight each month to add new members to this exciting ministry. And we are grateful for YOUR partnership! It has been a pleasure over the years to learn from you.

Second Saturday of Each Month
**Due to an extensive travel schedule, the dates for September and October will be September 5th and October 3rd**
Topic: HOFCC Monthly Conference Call
Time: 7:00 am, Pacific Time

Dial (218) 862-4122

Enter participation code 60308#

Mute your phone by pressing *6